A book about cake by bestselling children's author Tammi Sauer deserves a party, a special party, a BOB Storytime party! And that's the plan when Tammi and her new book "I Love Cake!: Starring Rabbit, Porcupine, and Moose" will be at BOB Storytime at 11 a.m. Saturday, May 21.
​ Tammi will read from her new book do some dancing, do a craft, color and even pretend to bake a cake with the kids -- and "kids" could mean anyone younger and older. BOB is also planning a real cake to celebrate Tammi's latest book. (And, of course, Tammi will be at BOB to personalize your own copy of "I Love Cake!")
"I Love Cake!" was just released by Katherine Tegen Books, with is distributed by HarperCollins.
NOTE: PLEASE CALL BEST OF BOOKS AT 340-9202 TO MAKE RESERVATIONS TO ATTEND THE PARTY.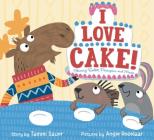 $17.99
ISBN: 9780062278944
Availability: Usually Ships in 1-5 Days
Published: Katherine Tegen Books - May 3rd, 2016
---