A Series of Unfortunate Events Box: The Trouble Begins (Books 1-3) (Hardcover)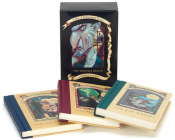 $41.99

Usually Ships in 1-5 Days
Description
---
NOW A NETFLIX ORIGINAL SERIES
Lemony Snicket's unhappy tale of the unlucky Baudelaire siblings begins with The Bad Beginning. In this short bothersome book alone, the three orphans encounter a greedy and repulsive villain, itchy clothing, a disastrous fire, a plot to steal their fortune, and cold porridge for breakfast.
Should you not mind deadly serpents, slippery salamanders, lumpy beds, large brass reading lamps, long knives, and terrible odors, then proceed with caution to the second book in the miserable series, The Reptile Room.
Readers unbothered by inclement weather, hungry leeches, and cold cucumber soup will want to continue with the third installment, The Wide Window. Others will not.
If you've got the stomach to wade through the first three tragic tales in Lemony Snicket's A Series of Unfortunate Events, then this troubling collection might be the one for you. You've been warned!
About the Author
---
Lemony Snicket had an unusual education which may or may not explain his ability to evade capture. He is the author of the 13 volumes in A Series of Unfortunate Events, several picture books including The Dark, and the books collectively titled All The Wrong Questions.
Brett Helquist's celebrated art has graced books from the charming Bedtime for Bear, which he also wrote, to the New York Times–bestselling A Series of Unfortunate Events by Lemony Snicket to the glorious picture book adaptation of Charles Dickens's A Christmas Carol. He lives with his family in Brooklyn, New York.