The Golden Sandal: A Middle Eastern Cinderella Story (Paperback)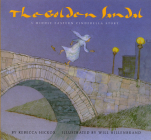 $7.99

Usually Ships in 1-5 Days
Description
---
Poor Maha! Her jealous stepmother makes her do all the housework while her selfish stepsister lazes about.

Since Maha's father is away fishing most of the time, there is no one to help or comfort her. All that begins to change when Maha finds a magical red fish. In return for sparing his life, the fish promises to help Maha whenever she calls him. On the night Maha is forbidden to attend a grand henna to celebrate the coming wedding of a wealthy merchant's daughter, the fish is true to his word. His magic sets in motion a chain of events that reward Maha with great happiness, and a dainty golden sandal is the key to it all.

Rebecca Hickox's eloquent retelling and Will Hillenbrand's lush pictures offer a beguiling version of a story well-loved by many cultures the world over.
About the Author
---
Rebecca Hickox is the author of Zorro and Quwi; Tales of a Trickster Guinea Pig, illustrated by Kim Howard, which Kirkus Reviews calls "delightful," in a pointer review, Per and the Dala Horse, illustrated by Yvonne Gilbert, an American Bookseller Pick of the Lists selection, and Matreshka, illustrated by Alexi Natchev, which Booklist praises as "cleverly told." A high school librarian, Rebecca Hickox lives in Salem, Oregon, with her daughter, Rebecca.

Will Hillenbrand has written and illustrated many picture books for children. The Horn Book called Spring Is Here, the first Bear and Mole Story, "a sure-fire read-aloud for preschoolers;" and in a starred review, School Library Journal raved that Kite Day, the second book in the series, is "a winner for storytimes." He lives in Ohio.
Praise For…
---
"Hickox (Zorro and Quwi, 1997) finds her Cinderella in Maha, a fairy godmother in a red fish that Maha shows mercy to, and the lost slipper in a golden sandal, discovered by Tariq, brother of a rich merchant, who then takes on the search for his bride- to-be. When he arrives at Maha's house, her stepmother conceals her in an outdoor bread oven, but a happily-ever-after ending is as integral to this Iraqi version of the story as it is to other retellings. An illustrator's note explains the complex process undertaken for the artwork, done in stages with oils, oil pastel, egg tempera, watercolor, crayon and pencil on vellum, but what readers will come away with is an appreciation for the unusual setting, comic characters, and the age-old emotions and resolutions that rule this story." —Kirkus Reviews

"A visual treat from start to finish." —Publishers Weekly